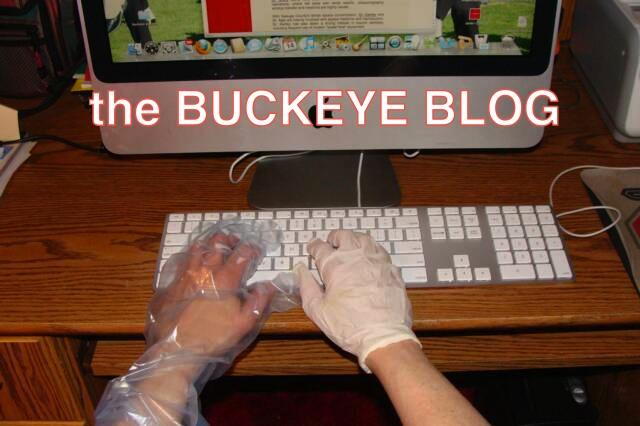 SHOE BOIL, DON'T BOTHER ME! by Ken Keckler DVM

Ay Caramba! You just walked in your horse's stall and something is definitely wrong! Either a huge tumor has grown up overnight, or there is an alien attempting to hatch from Coco's elbow. Neither one of those things could be good!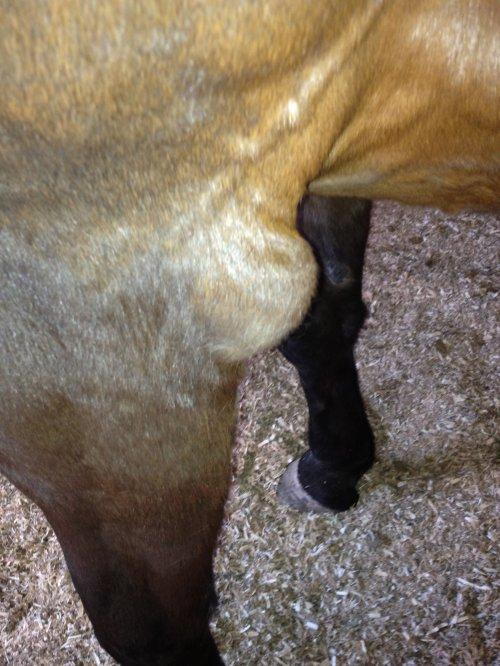 OK, calm down. Coco is acting perfectly fine: nickering at you for grin, eating her hay, and moving about without a limp. Still, when you walk her into the barn aisle, that mass on her elbow quivers like jello. What is going on here?
Most likely, Coco has a "shoe boil". Shoe boils are a fairly common occurrence, and happen while the horse is lying down. With her front legs folded under her, the elbow rests right on the heel of her shoe. If the shoe's heel is prominent, it will be irritating to the skin, causing inflammation. Over time a seroma will develop, which is simply serum between the skin and underlying tissues. If traumatic enough, it may be blood under the skin, called a
hematoma. The resulting swelling can appear as a "bubble" hanging from the elbow, and can be fairly large. Most of the time there is also an area of the skin surface that is damaged where the pressure was. This will appear as a superficial wound, but deep insults may allow bacteria into the seroma.  Pockets of serum or blood clot are a spectacular place for bacteria to make a home and run amuck, so sometimes shoe boils will become infected.
Treatment for shoe boils is usually very simple: stop the irritation.
Initially this is done by padding the heel using thick layers of cotton (or similar soft material) and wrapping the foot each night (or whenever the Coco usually lies down). Contact your farrier and determine if there is something different he can do with the shoes. Many times the heels can be shortened or turned in to decrease contact area. Anti-inflammatory medications like Bute or Banamine may be in order, and topical DMSO and/or cold water "hydrotherapy" may help decrease the swelling.

If this looks to be an ongoing issue and no easy answer is found, you will need to purchase a "donut". No, not the glazed or jelly filled kind, (although those are delicious), but a padded "boot" that buckles around the pastern and protects the elbow by keeping the heel away from it. This works wonders and is easy to put on. Coco will tolerate it very well. This one has been covered with Vetwrap.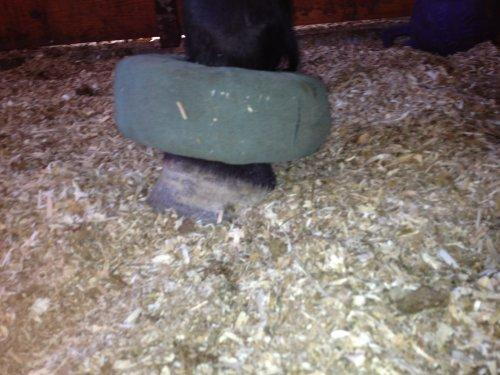 If necessary, the skin wound can be treated with a topical antibacterial ointment. If infected, systemic antibiotics and flushes of the pocket may be required. If not already infected, I do not drain them, but allow them to fibrose on their own over time. As stated above, serum and blood pockets are wonderful places for bacteria to thrive, and a needle may introduce those bacteria. Owners typically want the unsightly protuberance gone immediately, but I recommend patience. Over time, the elbow will end up with a firm knob where the gelatinous bubble was. 
Shoe boils can cause much concern, but are usually just an unsightly blemish. Most often there is no lameness or down time, and they are treated by protecting the elbow from the foot.